Coming Fall 2021 ezRecipe Design 3.03.10
The ezRecipe Design 3.03.10 release date will be in early Winter 2022. Features new to this upcoming release include; support for Sparge Water treatment and an Automatic Calculation feature to provide salt and acid amounts for brewing water profiles and much more.
A free 90 Day Trial Mode will get you acquainted with the many new features and existing feature improvements. A one-time donation of $21.95 or more will update your trial mode to the Unlimited Edition.
The Installer for this release includes a setup program that will install the ezRecipe Design 3.03.10.xls spreadsheet and ezRecipe Design Formula Add-in for Excel. The spreadsheet and Add-in combination greatly improves calculation accuracy and performance over a single spreadsheet model.
ezRecipe Design is a full-featured beer recipe design tool that is powerful yet easy to use. Developed and brew day tested by experienced homebrewers for brewers of all levels. ezRecipe Design packs the power to design even your most challenging beer recipes. Focus on brewing the best beer possible without the long, frustrating learning curve. Create, edit and save your recipes and brewing notes within one Excel spreadsheet. Seemlessly and completely converting recipes between metric or standard measurements with a single click!
* Planned release date early Winter 2022 *
** Requires Excel (32 Bit) on Windows 8 or higher **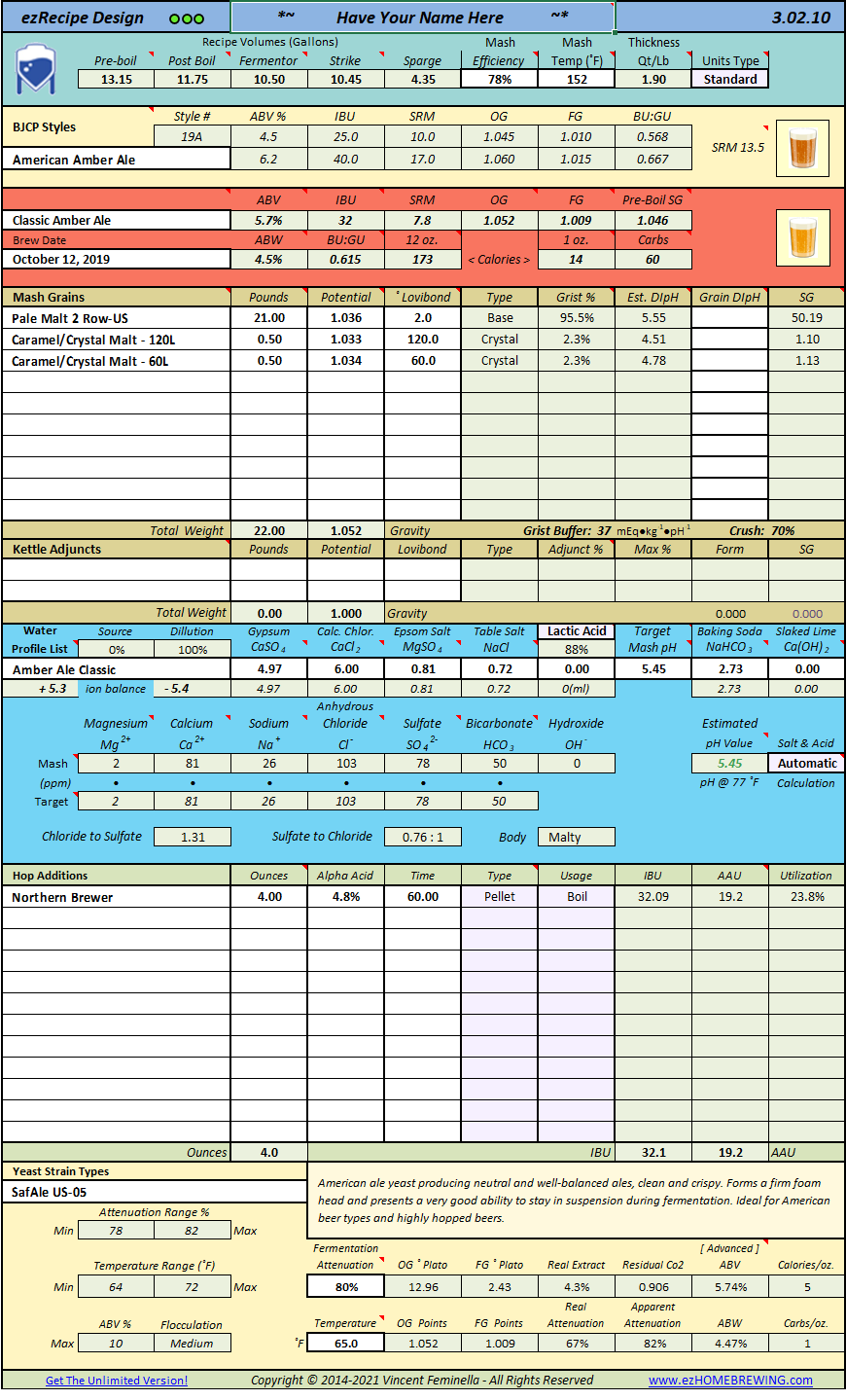 Current v3.03.10 Build Date: November 17, 2021
Overview:
1. Select the style of beer you wish to base your recipe on, give the recipe a unique name and add your favorite grains.
2. Enter your expected mash efficiency and mash temperature.
3. Use the Mash sheet to enter information related to your particular brewing systems, such as vessel capacity, mash thickness, and length of boil. ezRecipe will use that information to calculate water pH, volumes, wort specific gravity, and beer color.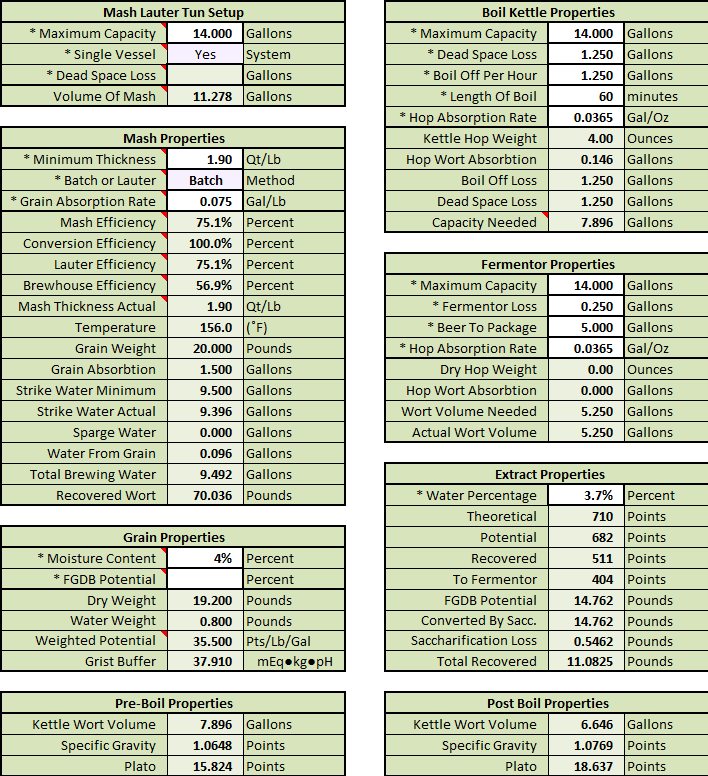 Mash information and brewhouse settings
Main Recipe Editor:
Select the perfect mix of grains and adjuncts for your recipe.
The default values for grains and adjuncts are all editable as needed to match the ingredients you have on hand. The edited values for all ingredients become part of the recipe when saved.
From the BJCP Styles dropdown list, select the style of beer to use as a guide when building your new recipe. Each of the many beer styles displays the minimum and maximum values for color, bitterness, alcohol, and final gravity.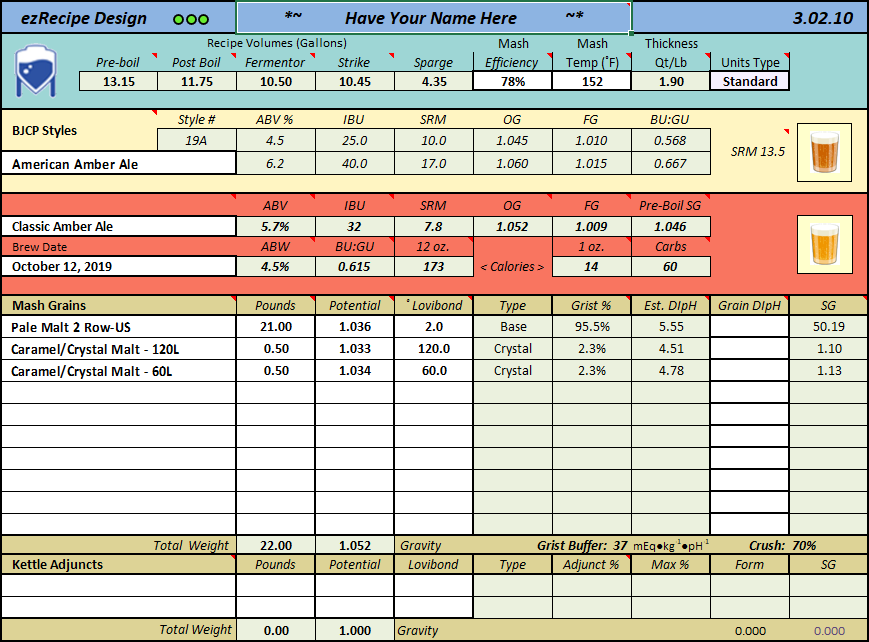 Create, save, modify, print or export your recipes
Brewing Water Editor: Conversion optimization occurs in the 5.2 to 5.6 mash pH range. When base malts are mashed in distilled water the mash typically settles in the 5.6 to 5.8 pH range. Brewing salts modify the flavor and mineral content of brewing water. Lactic and Phosphoric acid reduce pH and Baking Soda and Slaked Lime are used to raise pH.
When correctly matched to a grain bill, brewing water with the correct properties will keep the mash pH within a very narrow range called the recipe's target pH.

Match your recipe to the perfect brewing water.
Hop Addtion Editor: Select the types of hop to use from a list of popular hops. Then enter the weight, type and usage for each hop selected. The default alpha acid percentage can be used or overridden with your own values. The values entered in this section are saved with the recipe and will be reloaded when the recipe is selected.
Types are pellet, whole and extract used in boil, whirlpool and dry hop.
Yeast Editor: Enter the name and attenuation rate of the yeast used with the recipe. Most types of yeast have a 65% to 85% attenuation rate. The actual attenuation rate varies based on fermentation conditions and beer gravity.
Attenuation rate and fermentation temperature influence final gravity.